About Us
Director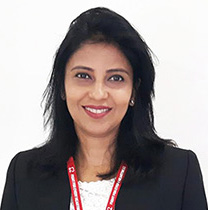 Dr. V. J. Sadhana is the Executive Director [Medical] who heads the Andhra Pradesh Centre. She is a medical graduate from one of the premier medical institutes in the country, JIPMER Pondicherry, and has done her post graduation in Preventive Medicine. Dr. Sadhana has worked for the World Health Organization as State Officer for Andhra Pradesh for 6 years and has also served as a technical advisor to the Govt. of Andhra Pradesh during that period. She has also been closely associated with projects related to World Bank, Ford foundation and Bill and Melinda Gates foundation.
She specializes in Preventive Cardiology. She is a life member of the Academy of Cardiovascular Cartography and has pioneered the use of non invasive 3-D Cardiovascular Cartography in Andhra Pradesh. She is a Professional Member of the American Heart Association and an Associate Member of the Indian college of Cardiology. She has been a guest speaker at several forums and has attended several training programs and meetings at South Korea, Malaysia, USA and places in India. She has published several articles in scientific journals and has authored couple of books. Her articles on Preventive Cardiology have been featured in several national and regional newspapers and magazines.
Academic Qualifications
Received her MBBS and MD degree from JIPMER, Pondicherry, India (One of India's premier teaching hospitals and Tertiary Care Centre)
Certificate in Cardiovascular Cartography and its clinical applications – Center for Advanced Research and Development (CARD) at Bangalore (2004)
Advanced Clinical training on "Applications of Cartography in detection and management of Coronary Artery Disease" at Dept of Cardiothoracic surgery, Gleneagles Kuala Lampur Malaysia (2004)
Preventive Cardiology – AHA/ CDC at Florida USA (2005)
Non-Invasive Cardiology – Non Invasive Heart Centre – San Deigo, USA (2005)

Fellowship American Heart Association (FAHA) – USA (2007)
Cardiac Rehabilitation Certificate Course – Hongkong (2008)
Experience

Worked for the World Health Organization (WHO)
Practising Preventive Cardiology in Hyderabad and has the experience in preventing and guiding over 6000 people with heart disease
Membership of Professional Organizations








Publications

Written a book on Heart Disease Detection called "Looking into your Heart"

Important Presentation

Invited by the American Heart Association to present at the Second International conference on Women, Heart Disease and Stroke at Orlando February 2005.
Guest Lectures and Articles

Addressed several forums like HMA, MARCH, Rotary Club, Lion Club, Walkers forum, other social organizations, Senior Citizens Associations etc
Published several articles in various leading newspapers and magazines
Personal Social Responsibility

Women – Supporting the World Heart Federation 'Go Red for women' campaign
Outreach Camps – Detecting risk factors – Dyslipidemia, Hypertension and Diabetes.
Relatives of heart patients – Early detection and prevention of CAD among relatives of those who had an heart attack or undergone By-pass or Stent surgery.