Paper Presentations
Here are the abstracts of some of the interesting presentations made in International and National conference
Presentation made at the Second International Conference on Women, Heart Disease and Stroke February 16-19,  2005 Orlando Florida USA jointly sponsored by the American Heart Association, CDC Atlanta, World Heart Federation and the American College of Cardiology Foundation.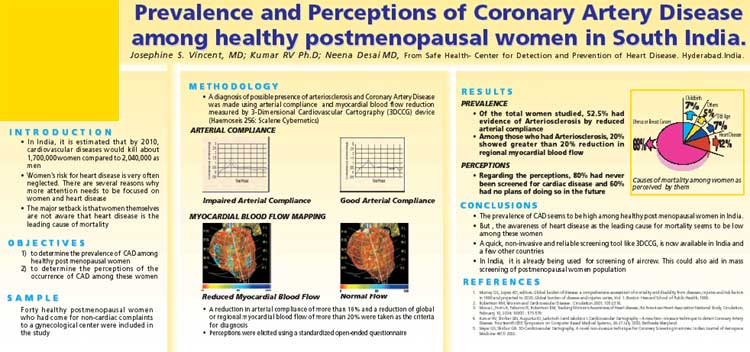 Presentation made at the 12th Annual Conference of the Indian College of Cardiology, August 5 – 7, 2005 Ooty, India.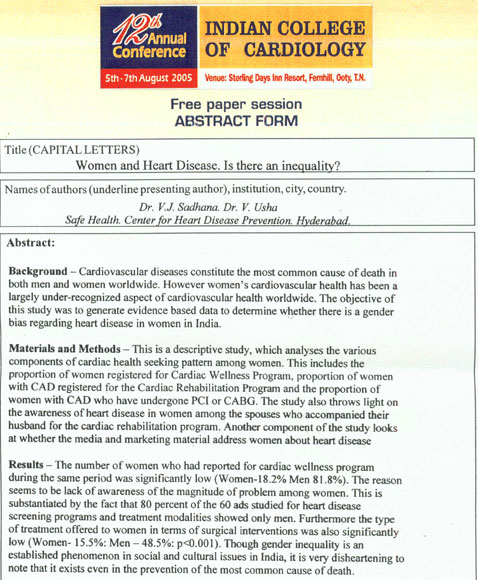 Presentation made at the First Annual Convention of the Academy and workshop on Cardiovascular Cartography, December 4- 5, 2004 held at Center for Advanced Research and Development, Bangalore, India
SCREENING FOR CORONARY ARTERY DISEASE: 3D CARDIOVASCULAR CARTOGRAPHY VERSUS OTHER EXISTING METHODS
Abstract
Dr VJ Sadhana
Cardiac screening has become a very common urban phenomenon. There are various tests being used and misused right from biochemical tests to invasive procedures. With the advent of PET scanners, and 3DCCG, now we have a wide choice. Today many of the test procedures are used, just because, it evolved as a convention, or a protocol set by premier institutions and associations. Interestingly many are obsolete and the question is do we need all of these? Is it not time to discard some as newer technologies are emerging?  The objective of this presentation is to understand and revise our thinking on what we must be looking forward to. The question is can 3D CCG can be used as a screening tool and if so how much can we relay on it. What are its limitations and risks when compared to the other existing investigations? How early do they detect Coronary Artery Disease and how much of physical and physiological trauma do these investigations cause. Is risk stratification important considering that the management depends on the stage of the disease? Will it be possible to accurately differentiate between the patients who need intervention, and those who can be medically managed. Is 3D CCG going to give us 'for sure' information that will make us to come to a firm conclusion? The most important question is whether 3D CCG satisfies the criteria to be used as a screening tool for CAD. The paper discusses the advantages and disadvantages of 3DCCG, and other presently available invasive and non-invasive test modalities in early detection, early pharmacological or surgical intervention.